The Centers for Medicare & Medicaid Services (CMS) had until the 2022 performance period/2024 payment period to fully implement the Quality Payment Program (QPP) and its two tracks for participation: the Merit-Based Incentive Payment System (MIPS) and Advanced Alternative Payment Models (APMs). And for the most part, the agency has succeeded in finalizing the last of the requirements as codified in the Medicare Access and CHIP Reauthorization Act (MACRA) of 2015. Let's look at what has changed for this performance year, as well as what has retrospectively changed for performance years 2020 and 2021 due to the public health emergency for COVID-19.
MIPS in 2022
Without going into too much detail, let's review: MIPS is a means of participation in the QPP for eligible clinicians who meet or exceed a low volume threshold and are not registered in an Advanced APM. Eligible clinicians may participate in MIPS either individually or in a clinician group or virtual group. Added to the list of eligible clinicians for the 2022 calendar year are clinical social workers and certified nurse midwives.
The goal of MIPS is to reign in government spending by improving the health outcomes of Medicare patients. This is accomplished by rewarding clinicians for meeting established standards of quality care. With the payment adjustment rate mandated by MACRA now fully implemented, MIPS eligible clinicians stand to lose/gain as much as 9 percent in their Medicare Part B claims payments in 2024; it will all depend on their participation, and the participation of all other MIPS eligible clinicians, in this budget neutral incentive payment program.
Participation in MIPS is measured in four performance categories: Quality, Cost, Improvement Activities, and Promoting Interoperability. Each category is weighted toward the final score. The weights have changed throughout the years and this year is no different.
Performance category weights for year six of MIPS are: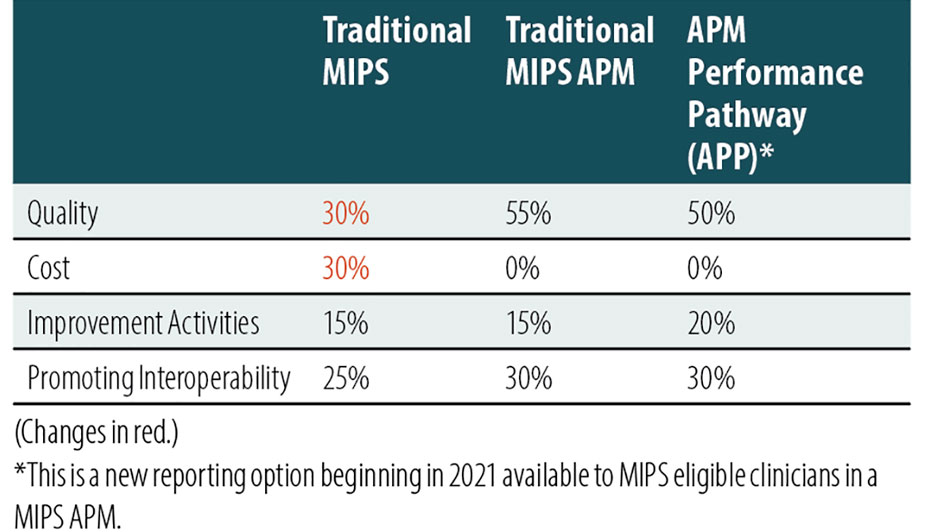 Note: For small practices (fewer than 15 clinicians) claiming an exception for the Promoting Interoperability category, the performance categories will be reweighted as such: Quality – 40 percent, Cost – 30 percent, and Improvement Activities – 30 percent. If a small practice claims an exception from two performance categories, the other two performance categories will each be reweighted to 50 percent.
What's New for the Quality Performance Category?

There are 200 quality measures from which clinicians can select in 2022, including the addition of four high priority quality measures:
> Intravesical Bacillus-Calmette Guerin for Non-muscle Invasive Bladder Cancer
> Hemodialysis Vascular Access: Practitioner Level Long-term Catheter Rate
> Person-Centered Care Measure Patient Reported Outcome Performance Measure
> Clinician and Clinician Group Risk-standardized Hospital Admission Rates for Patients with Multiple Chronic Conditions (administrative claims measure with an 18-case minimum for groups with at least 16 clinicians)

Also, CMS removed 13 pre-existing quality measures and revised 87 measures. Nine of the revised measures will not be eligible for a historical benchmark this year, so scoring of these measures may be affected.
An individual clinician, clinician group, or virtual group need only collect data on six quality measures (including at least one outcome or high priority measure) during the calendar year. Alternatively, an individual or group may report a defined specialty measure set or report all the quality measures included in the CMS Web Interface. (CMS didn't finalize its proposal to discontinue this collection type, so groups, virtual groups, and APM entities reporting traditional MIPS may continue to use it for this performance year.)
There are no bonus points for reporting additional outcome and high-priority measures beyond the one required and no bonus points for measures that meet end-to-end electronic reporting criteria. Everyone is expected to be using 2015 edition certified electronic health record technology (CEHRT) by now.
What's New for the Cost Performance Category?
There are five new episode-based cost measures in the Cost performance category for 2022:
Two procedural measures:
> Melanoma resection
> Colon and rectal resection
One acute inpatient measure:
> Sepsis
Two chronic condition measures:
> Diabetes
> Asthma/Chronic Obstructive Pulmonary Disease
With the addition of these measures, clinicians are now scored based on a possible 25 cost measures. Clinicians do not submit data for this category; CMS collects the data via Medicare Parts A and B claims (and Part D for the two chronic condition episode-based measures). For clinicians to score well in this category requires an understanding of the measures and how they are attributed. Paying attention to Cost Performance Feedback reports is an essential part of this understanding. The Feedback report for performance period 2022 will be available in summer 2023 by logging in to your QPP account at qpp.cms.gov, according to CMS.
What's New for Improvement Activities?
There are seven new improvement activities this year. CMS also modified 15 pre-existing activities and removed six.
New improvement activities for 2022 are:

> Create and Implement an Anti-Racism Plan
> Implement Food Insecurity and Nutrition Risk Identification and Treatment Protocols
> Implementation of a Trauma-Informed Care (TIC) Approach to Clinical Practice
> Promoting Clinician Well-Being
> Implementation of a Personal Protective Equipment (PPE) Plan
> Implementation of a Laboratory Preparedness Plan
> Application of CDC's Training for Healthcare Providers on Lyme Disease
Most of these activities require a yes or no attestation. In general, clinicians must implement and attest "yes" to two to four improvement activities, performing each activity for a continuous 90 days in the calendar year, to receive the maximum score of 40 points in this category. Medium-weighted activities continue to be worth 10 points and high-weighted activities continue to be worth 20 points; points continue to be doubled for those that qualify for special status (rural, Health Professional Shortage Area, non-patient facing, and small practices). Providers are advised to maintain documentation in support of their attestations for six years.
What's New for Promoting Interoperability?
Of note, clinical social workers and small practices qualify for automatic reweighting of the Promoting Interoperability performance category in this first year of inclusion as MIPS eligible clinicians. All those who are not exempt from participation in this category have a new required attestation measure, Safety Assurance Factors for EHR Resilience Guides (SAFER Guides). Also note that CMS revised the Prevention of Information blocking attestation statements and renamed it Actions to Limit or Restrict Interoperability of CEHRT.
The Publish Health and Clinical Data Exchange Objective requirements are also revised: MIPS eligible clinicians must report Immunization Registry Reporting and Electronic Case Reporting measures (unless an exclusion is claimed). Clinicians are generally expected to collect data using CEHRT on the required measures for the same continuous 90 days in the calendar year.
The following measures are now optional: Public Health Registry Reporting, Clinical Data Registry Reporting, and Syndromic Surveillance Reporting. Clinicians, groups, and virtual groups will earn 5 bonus points for attesting "yes" to any one of these measures (5 points total, not each).
What Will it Take to Meet Data Completeness Criteria?
To meet data completeness criteria of a measure, clinicians must report performance data (met, not met, exception) for at least 70 percent of the denominator-eligible encounters, as outlined in the measures' specifications. Note that Medicare Part B claims measure specs are limited to Medicare Part B encounters — all others include all encounters regardless of payer.
Quality measures are scored in 1-10 decimals. As a rule, measures have a 3-point floor regardless of whether they can be scored against a historical benchmark and meet case minimums. New quality measures, however, will now have a 7-point scoring floor the first year and a 5-point scoring floor the second year. For example, a new quality measure may be worth 7-10 points in 2022 and 5-10 points in 2023 if data completeness and case minimum criteria are met. Clinicians earn no points if data completeness (70 percent) isn't met for a measure (small practices will still get 3 points) and 3 points if the case minimum isn't met (3 points still for small practices). (Note: Admin claims measures are excluded from scoring if the case minimum is not met.)
The performance threshold is the total number of points one must earn in their final score to receive a neutral payment adjustment. This threshold is increased from 70 points in 2021 to 75 points in 2022 and exceptional performance is increased from 85 points to 89 points. This is the final year for the additional performance threshold/additional 5 percent MIPS adjustment for exceptional performance, and it will the hardest year to earn it.
On a final note, CMS will continue to double the complex patient bonus of 10 points for clinicians who have a median or higher value for at least one of the two risk indicators (hierarchical condition category score and proportion of patients dually eligible). This also applies to groups, virtual groups, and APM entities that meet the criteria and submit data for at least one performance category.
Take Steps to Improve Performance
Through understanding, healthcare business professionals are essential in helping their providers earn positive payment adjustments and favorable consumer ratings by ensuring measure specifications are met, claims are coded correctly, and policies are implemented and carried out. Take steps to learn more about the measures and activities your clinicians have selected this year and what is needed from you to ensure a successful MIPS performance year and upcoming payment year.
The COVID-19 Effect on 2022 Payments
CMS has had to make numerous exceptions to MIPS these past two years due to extreme and uncontrollable circumstances caused by the public health emergency for COVID-19. The most impactful changes will be appreciated in payment year 2022.
For starters, CMS extended the MIPS automatic extreme and uncontrollable circumstances (EUC) policy to all individual MIPS eligible clinicians for the 2020 performance period. Clinicians who didn't submit any data, or who only submitted data in one performance category, will automatically receive a neutral payment adjustment in their Medicare Part B claims in 2022.
Also, for the 2020 performance period, CMS reweighted the Cost performance category from 15 percent to 0 percent for all MIPS eligible clinicians regardless of participation as an individual, group, virtual group, or APM entity. The 15 percent weight will be redistributed to other performance categories in which the clinician participated.
Clinician groups, virtual groups, and APM entities had until March 31, 2021, to complete an EUC application to request reweighting of all performance categories for the 2020 performance period. If approved, these participants will receive neutral payment adjustments in 2022.
CMS has also added to a pre-existing list three quality scoring flexibilities beginning in 2022 for measures impacted during a performance period. These new flexibilities account for changes to the active status of codes, the inadvertent omission of codes, and the inclusion of inactive or inaccurate codes that could negatively affect one's performance for a measure. CMS will continue to truncate the performance period of affected measures to nine consecutive months when appropriate.
UPDATE: Physicians have until March 31 to submit a 2021 exemption to avoid a 2023 negative payment adjustment, or to request reweighting of one or more of the MIPS performance categories.
For more information, visit: https://www.aapc.com/blog/84206-learn-whats-new-for-mips-in-2022/